Imogen is Dark Blessed… and bad things happen to those who are Dark Blessed… When Imogen returns to her second year at Callador, she immediately senses the looming, threatening darkness embracing her school. A vision from last year promised yet another death, but the killing won't stop there. If Imogen can't figure out who the killer is, the murders may never stop. And her friends might be next. Her only hope for saving them lies in her curse of being Dark Blessed, but revealing her true nature could destroy her life forever. But what's a girl to do when her number one suspect is the guy she doesn't even realize she's falling for?
I am already becoming a big fan of Sofia's writing style and books. Curse of Flame's is such an amazing second book in this series. I absolutely cannot wait to read the next one.
This follows immediately after Curse of Fire ends and Imogen is returning to school with friends and a boyfriend.
To her Caleb is the perfect guy, he cute, sweet, sexy and a prince but is he really what she really wants or needs in a guy.
I can honestly say my fav since the first book has been Erick. Hes from the Seelie court of fairie and hes yummy but sassy and sometimes emotional. Hes caring, strong, loving, always wants to help, and loves to just piss off Imogen haha.
She keeps telling herself I have a boyfriend Caleb is my boyfriend but is she saying it just to convince herself that feelings for Erick are stupid and pointless.
This book has a dance and immanent danger, fae threatening Imogen and her friends, someone kidnapping her mom, Suspicions of who her father is, two guys fighting over her, and an investigation into fae deaths. quite the intriguing novel.
5 stars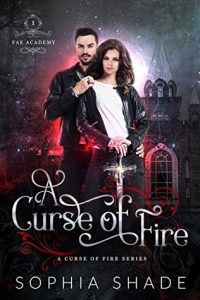 A Curse of Fire Book One
Sophia Shade is the enchanting author of the Fae Academy world. She lives beyond the Shadow Veil with the students, teachers, and creatures who attend Callador: Academy of the Aos Sí. When not writing, she spends her time battling darkness to save her newfound friends and family from the mysterious force that wants to drain all magic from Faerie once and for all.